Business Credit Cards
Increase the purchasing power of your business with a credit card from Fidelity Bank. Enjoy a classic Visa® credit card and a competitive interest rate. Plus, you can conveniently manage your card and pay your bill securely through Online Banking or Business Advantage.
Do More With a Business Credit Card
The Fidelity Bank Business Credit Card1 gives you the purchasing power you need to manage and grow your business. Whether your business is just getting started or has been around for decades, Fidelity Bank's Business Credit Card is designed to meet your business needs. Start improving your cash flow and buying what you need when you need it.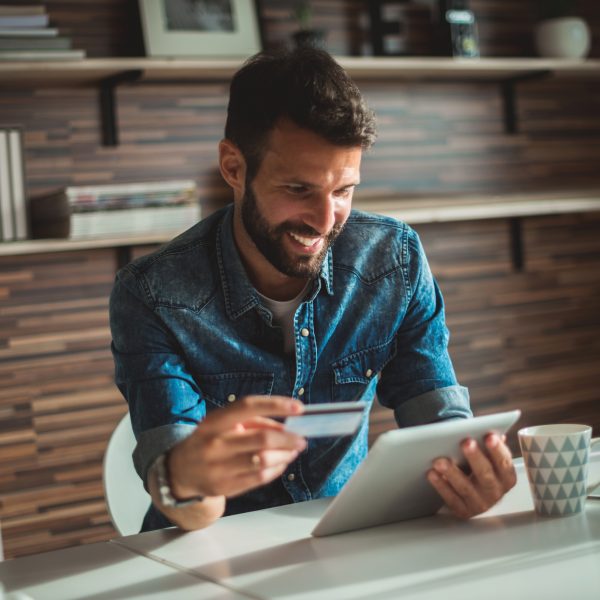 Ready to Get Started?
We offer two easy ways to apply for a Fidelity Bank Business Credit Card. To get started, visit your local branch or contact your banker. Our associates are here to help.
Frequently Asked Questions
Q:

How can I increase my credit line?
Q:

I'm traveling and will be using my Fidelity Bank credit card. What do I need to do?
Q:

How do I make a cash advance?
Q:

How do I transfer a balance?
Q:

How do I add or remove an authorized user on my current credit card account?
Q:

How do I dispute a charge?
Q:

How do I request a Personal Identification Number (PIN) for my credit card?
Q:

How do I pay my Fidelity credit card bill?
Q:

How do I report a lost or stolen credit card?
Q:

How do I apply for a credit card?
Have a question give us a call
Disclosures
Credit approval required.
Manage Your Business on the Go
Check your accounts, pay bills, initiate ACH and wire transfers, and approve transactions – all from your mobile device. Fidelity Bank's digital solutions for businesses let you manage your business from anywhere. Whether on your phone or computer, we've got you covered.
Fidelity Branch/ATM Locator