Business Mobile Deposit
Safely and securely deposit checks anywhere. Business Advantage Mobile Banking makes depositing a check as easy as taking a picture on your smartphone or tablet. Whether in the office or on the go, making a mobile deposit is easy, fast, and free.
Deposit Anytime With Mobile Deposit
Skip the trip to the bank. Conveniently deposit checks right into your Fidelity Bank business checking or savings account using your mobile device with our mobile banking app in just a few easy steps. Simply take a photo of the front and back of the check and follow the on-screen instructions to deposit it into your account.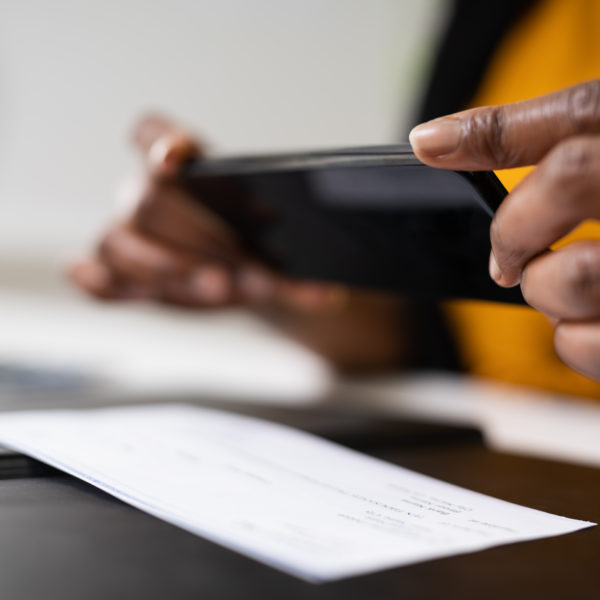 Ready to Get Started?
Getting started is easy! Mobile deposit is already available within the Business Advantage Mobile app. Simply log in to your Business Advantage Mobile app, navigate to the Deposit tab, and then follow the easy steps to deposit a check.
Don't have our mobile banking app? Download it for free.
Frequently Asked Questions
Q:

How do I enroll in Business Advantage Online Banking?
Q:

Why don't I have the mobile deposit option on my phone?
Q:

Who is eligible to use mobile deposit?
Q:

How do I deposit a check with the mobile banking app?
Q:

Is there a fee to use mobile deposit?
Q:

How many deposits can I make in one day?
Q:

When will my mobile deposit be available?
Q:

Is an endorsement required for a mobile deposit?
Q:

What should I do with my paper checks?
Q:

What types of checks can I deposit?
Q:

Can I view previous deposits in the mobile app?
Q:

What if I accidently send a check for deposit twice?
Have a question give us a call
Disclosures
Mobile deposits must be made by 5:00 pm to receive same day availability. If mobile deposits are made after 5:00 p.m. funds will be available on the next business day.
Manage Your Business on the Go
Check your accounts, pay bills, initiate ACH and wire transfers, and approve transactions – all from your mobile device. Fidelity Bank's digital solutions for businesses let you manage your business from anywhere. Whether on your phone or computer, we've got you covered.
Fidelity Branch/ATM Locator