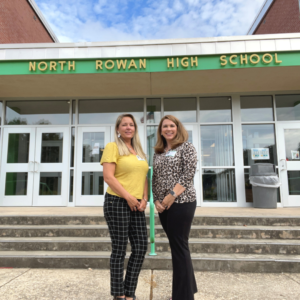 Fidelity Bank associates from across North Carolina recently participated in the Bankers in Schools program hosted by North Carolina Young Bankers. The Bankers in Schools program, which ran from October 4th through October 8th, allowed schools from across the state to invite bankers in their communities to visit classrooms either in person or virtually and teach a 45-minute lesson on budgeting.
Danielle Ward, Business Solutions Officer, and Kim Briggs, Salisbury Branch Manager, visited North Rowan High School in Spencer, North Carolina.
"Unfortunately, budgeting and finances are topics that not a lot of students know about in today's world," shared Ward. "We are very grateful that North Rowan High School allowed us to come and speak with these young men and women."
According to the World Bank, just 57% of U.S. adults are financially literate. The NCYB is committed to changing that statistic and believes it starts in our local schools. One of the primary missions of the organization is to promote financial literacy in North Carolina's youth to help the next generation make smart fiscal decisions.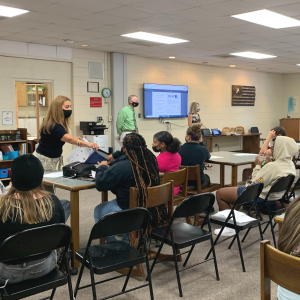 During the recent week-long program, other Fidelity Bank associates visited students in Southern Pines at Pinecrest High School and taught
accounting classes. Phil Woodard, Fidelity Bank Regional Executive, Lisa Hildebrand, Business Solutions Officer, and Paula Crocker, Business Development Officer, went through the curriculum that the North Carolina Bankers Association provided with the students.
"What is really neat is that all three of us went to Pinecrest High School growing up.  And we all have children who attended as well," said Hildebrand. "It is so rewarding to be able to give back in this way and show our community what it means to be Right By You. We had great discussions in all three classes, and we were invited back for next semester."
The formation of the NCYB was first announced by the North Carolina Bankers Association in late 2015 as a way for young bankers to become engaged in their communities as industry advocates. For more information about the NCYB and Banks in Schools program, visit the North Carolina Bankers Association website at ncbankers.org.
Fidelity Bank is a full-service financial institution with assets of approximately $3.4 billion headquartered in Fuquay-Varina, North Carolina. The Bank owns and operates 58 branches throughout North Carolina, Virginia, and South Carolina.