FUQUAY-VARINA, North Carolina (February 11, 2022) – Fidelity Bank celebrated the grand opening of its newest branch located at 985 Old US Highway 1 with a ribbon cutting ceremony and reception held Tuesday, February 8. Many town dignitaries attended the Grand Opening event, including North Carolina Senator, Tom McInnis; North Carolina Senator, Dave Craven, Jr.; Southern Pines Mayor, Carol Haney; Southern Pines Mayor Pro Tem, Rev. Dr. Paul Murphy; and Town Council members Bill Pate and Taylor Clement. Members of Fidelity Bank's Executive Management team, including Mary Willis, President and CEO; Phil Woodard, Executive Vice President; Board of Directors members Mike Whitley and John Byrne were also in attendance.
Phil Woodard, Executive Vice President, began the ceremony by welcoming everyone and sharing his appreciation for all of those who worked incredibly hard to bring Fidelity Bank to Southern Pines. "We are very excited to be in Southern Pines. It feels like this has been a long time coming, and to finally see it all come together is such a wonderful feeling," shared Woodard.
Jim Byrd, Area Executive, was then introduced and shared similar sentiments. Byrd also took a moment to recognize members of the Chamber of Commerce as well as the entire Fidelity Bank team that will be at the Southern Pines branch. The branch staff consists of Jim Byrd, Area Executive; Paula Crocker and David Hope, Business Development Officers; Tonya Thomas, Office Manager; Beverly Swinnie, Loan Processor; and Carlene Reece, Sharon Avant and Jenna Hardin, Tellers. These associates have more than 207 combined years of banking experience and are responsible for business development and providing superior customer service. This team was located at the Fidelity Bank branch in Aberdeen before moving to the new Southern Pines branch.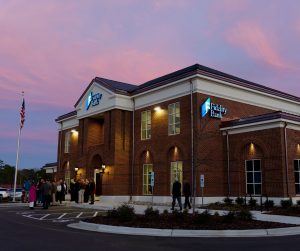 In addition to the local branch staff, Samanthia Smith, Wealth Management Development Officer for Trust Company of North Carolina; Lisa Hildebrand, Business Solutions Officer; and Phil Woodard, Executive Vice President all have offices at the new Southern Pines branch.
"We have a great group of bankers that are eager to assist the residents of Southern Pines and Moore County with all of their financial needs," said Byrd. "We also want to thank the entire group at Davie Construction Company for their partnership and the blood, sweat, and tears that went into building this beautiful branch."
After the ribbon cutting, attendees were able to tour the brand new 8,109 square foot building that was completed by Davie Construction Company in late 2021.
The new Southern Pines location provides full-service banking, three drive-thru lanes, and a drive-up ATM that accepts cash deposits. The branch is open from 9 a.m. to 5 p.m. on Monday – Thursday and 9 a.m. to 6 p.m. on Friday, with the drive-thru opening at 8:30 a.m. on Monday – Friday.
Fidelity Bank is a full-service financial institution with assets of approximately $3.6 billion headquartered in Fuquay-Varina, North Carolina. The Bank owns and operates 57 branches throughout North Carolina, Virginia, and South Carolina.