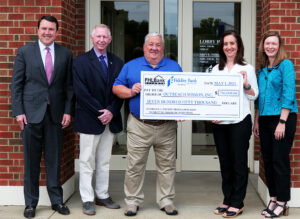 We are pleased to announce that the Federal Home Loan Bank of Atlanta in collaboration with Fidelity Bank has approved $750,000 in funding to support the construction of the new Samuel J. Wornom Community Shelter. The new shelter will be located at 507 South Third Street in Sanford and will house single men, single women, women with children and families.
The new shelter will be 8,500 square feet and replace the two current men's and women's shelters that are 100-plus years old. A single location capable of serving 76 clients will support more efficient and effective delivery of services. The shelter will also utilize many common areas to collaborate with other S3-Housing Connect agencies to provide services to those experiencing homelessness in our community.
Federal Home Loan Bank of Atlanta is committed to helping the communities of member financial institutions grow and prosper. Each year, Federal Home Loan Bank sets aside 10 percent of its annual net income to invest back into its members' communities through its Affordable Housing Program. These resources help members such as Fidelity Bank provide critical funding for affordable housing and needed emergency shelter projects in the communities they serve.
Fidelity Bank, a FHLB member, is committed to giving back to the communities it serves. Fidelity Bank supports causes that help people in need and works with local organizations to help make our communities stronger. Fidelity Bank will be a valued partner in making the Samuel J. Wornom Community Shelter become a reality.
The cost of the new Samuel J. Wornom Community Shelter is projected to be $2.8 Million when construction begins in mid-2023. Thus far the committed funding provided by the NC Housing Finance Agency, private donations, the Federal Home Loan Bank of Atlanta and Fidelity Bank, the Truist Foundation and the City of Sanford / Lee County total $2.8 M in construction funds and $630K in services funds.
Outreach Mission Inc. (OMI) is a faith-based 501(3)c nonprofit incorporated in 1988 to provide a hand-up to those experiencing homelessness in our community. Evolving from a night-time only shelter to a low barrier shelter that operates 24 hours per day, 365 days a year in 2018, OMI assists clients with shelter, medical and mental health treatment, life skill training, job training and recruitment, budgeting and saving, and housing search assistance. In 2022 OMI served 536 clients experiencing homelessness and assisted 86 households in returning to a stable housing situation.
Fidelity Bank is a full-service financial institution with assets of approximately $3.8 billion headquartered in Fuquay-Varina, North Carolina. The Bank owns and operates 57 branches throughout North Carolina and Virginia, and South Carolina. For more information, please visit fidelitybanknc.com.