Fidelity Bank is serious about small business and is consistently ranked as a top SBA Lender. In early 2021, we launched a Government Guaranteed Lending division. As this division continues to grow, so has our ability to help, start, grow, and expand local businesses across the U.S. We've even been recognized as an SBA Preferred Lender!
We are proud to spotlight how our team contributes to economic growth in North Carolina and beyond. Continue reading to see how business lending options kept business moving forward in April-June of this year.
$9,648,350 In Business Loans Funded
 As an SBA Preferred Lender, we are able to offer a variety of loans and lending options to business owners across the U.S. From April – June 2022 Fidelity Bank helped small businesses secure over $9 million in funding to start, grow, or expand small businesses.
Personalized Loan Options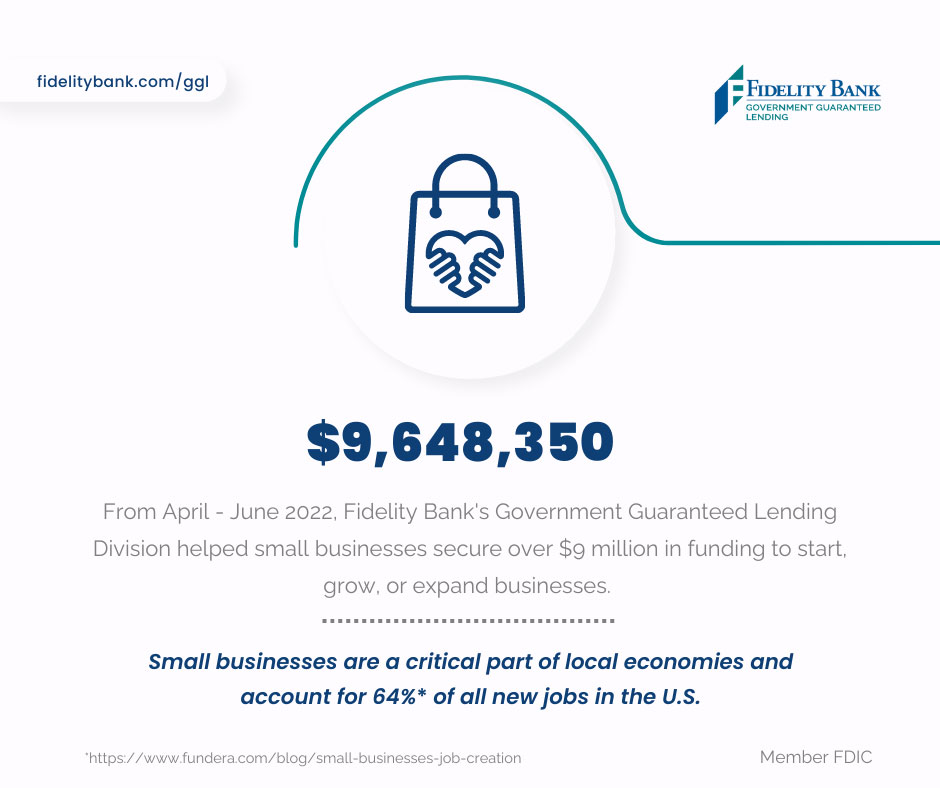 For some small business owners, seeking loans from friends and family, a bank, or other outside investors is enough to stay on track. For others, it may be time to look into SBA loans. Since no two businesses are alike, working closely with an SBA Preferred Lender is often the best way to get the personalized service and loan options your business deserves.
This quarter, the businesses we worked with benefited most from SBA 7(a) and 504 loans. Click here to learn more about each one and how they can be used to fund real estate acquisition, business acquisition, improvements, equipment, debt refinance, partner buyout, or working capital.
We Know Business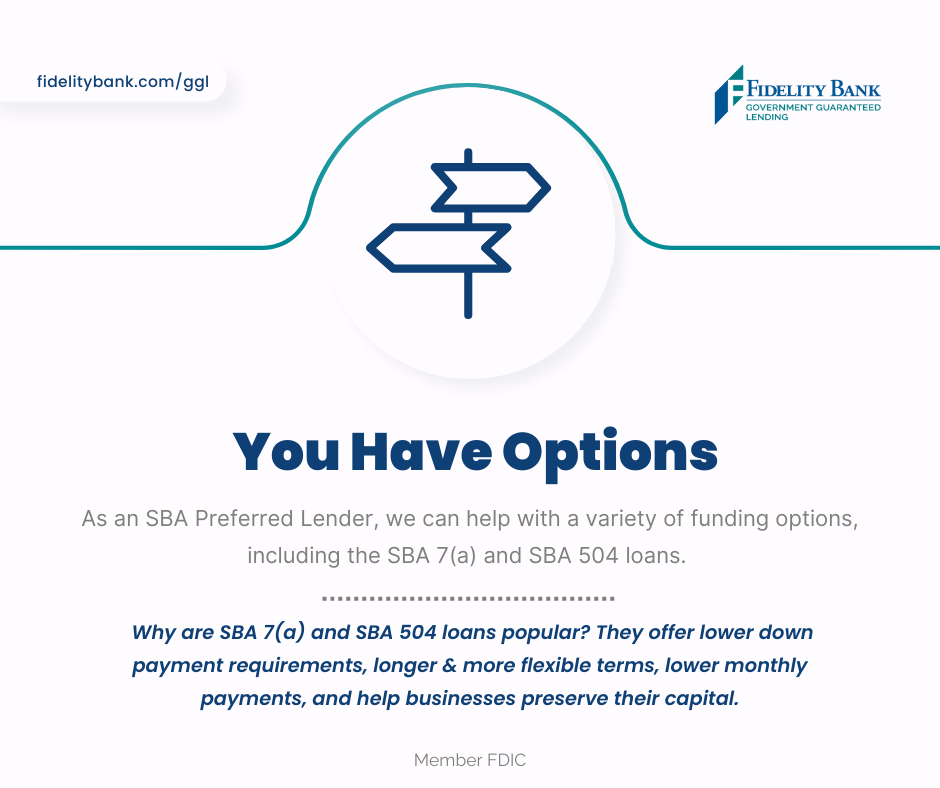 Working with an SBA Preferred Lender often means an easier qualification process, longer terms, and lower down payments on fixed assets than most standard loans. But how do you know you are working with the best lender? Look for a track record of success across a variety of industries and types of businesses.
Your Business Is Our Business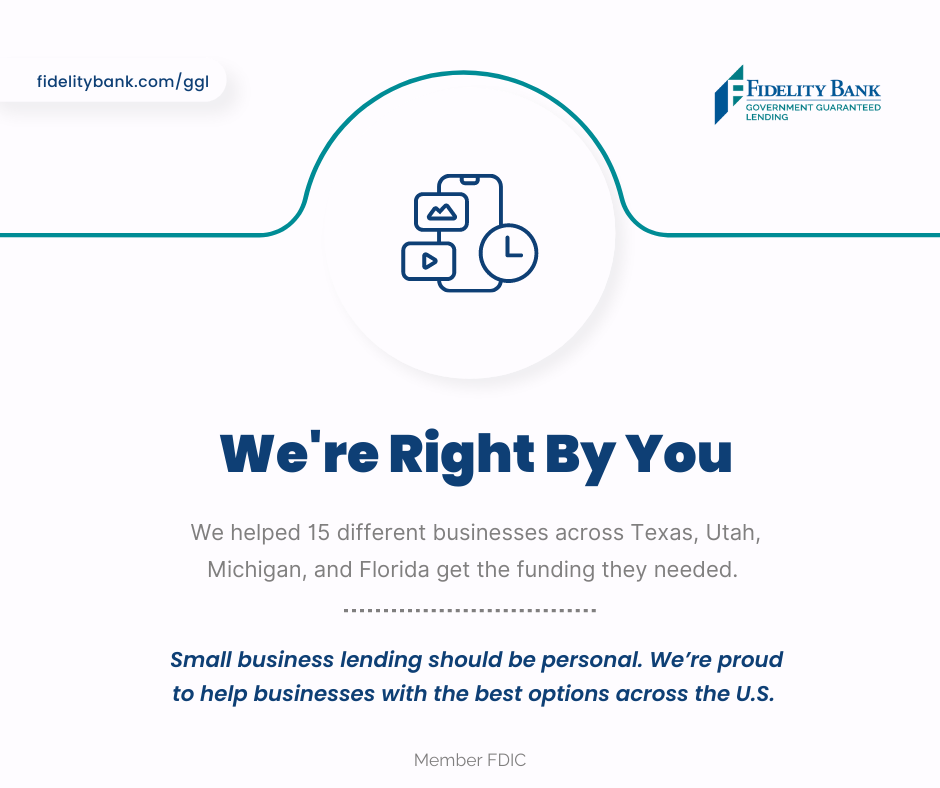 As an SBA Preferred Lender, our goal is to leverage our 100+ years of combined experience to create an affordable and customized solution to help you access the funding you need, regardless of where you do business.
We Help Small Businesses Think Big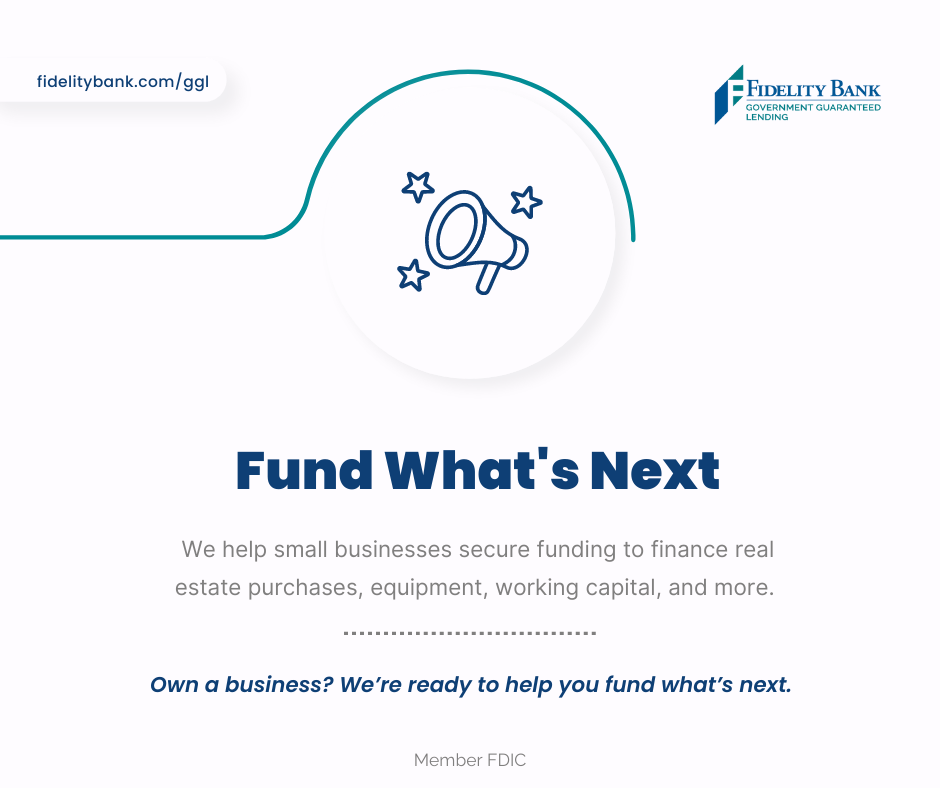 Whether you are an entrepreneur leading a fresh start-up or a fourth-generation business owner sustaining your family's legacy, a partnership with Fidelity Bank can help you grow.
Our team of knowledgeable SBA business lenders is ready to get to know you, your goals and recommend the most valuable solutions to get you there. More importantly, we'll be right by your side every step of the way.
Ready to fund what's next in your business? Click here to learn more and get in touch with a business lending expert.